ART.501
TEE-NUTS WITH TEETH "EXTRA GRIP"
Here we are dealing with a new type of nut, with a serrated tip, that guarantees a firmer grip in the wooden or plastic materials in which they are inserted. Additionally, the form of the base, with parallel sides, allows a quicker and more secure supply and loading to the automatic assembly machines.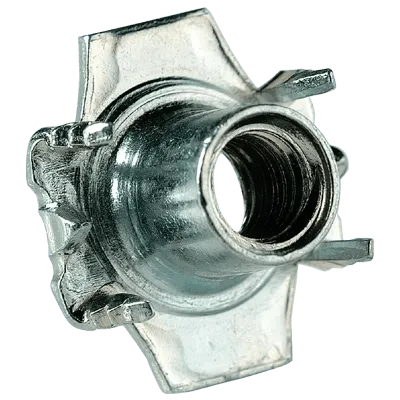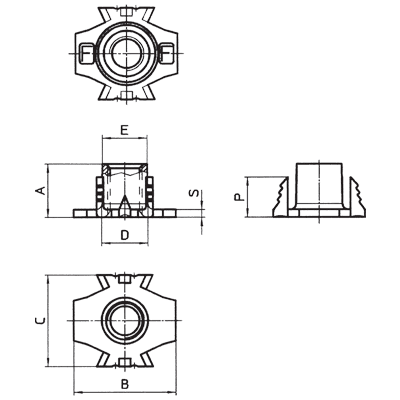 The measurements are expressed in mm. Tolerances: ± 0.2 for both heights and diameters. Center height tolerances: ± 0,3. Tighter tolerances on request.
| Filetto Metrico / Metric Thread | A | B | C | D | E | P | S | kg 1000 pz |
| --- | --- | --- | --- | --- | --- | --- | --- | --- |
| M6 | 9.3 | 17.8 | 16 | 8.1 | 7.8 | 7 | 1.35 | 3,8 |
| M6 | 10.3 | 17.8 | 16 | 8.1 | 7.7 | 7 | 1.35 | 3,9 |
| M6 | 11.3 | 17.8 | 16 | 8.1 | 7.7 | 7 | 1.35 | 4000 |
| M6 | 12.3 | 17.8 | 16 | 8.1 | 7.7 | 7 | 1.35 | 4,1 |
| M6 | 14.3 | 17.8 | 16 | 8.1 | 7.8 | 6.5 | 1.3 | 4,35 |
| Filetto Pollici UNC / UNC Inch Thread | A | B | C | D | E | P | S | kg 1000 pz |
| --- | --- | --- | --- | --- | --- | --- | --- | --- |
| 1/4"-20 | 9.3 | 17.8 | 16 | - | - | 7 | 1.35 | 3,8 |
| 1/4"-20 | 10.3 | 17.8 | 16 | 8.3 | 7.9 | 7 | 1.35 | 3,9 |
| 1/4"-20 | 11.3 | 17.8 | 16 | - | - | 7 | 1.35 | 4000 |
| 1/4"-20 | 12.3 | 17.8 | 16 | 8.3 | 7.9 | 7 | 1.35 | 4,1 |