In addition to the items in the catalogue, including button-nuts, Flamma can manufacture custom-designed small metal parts and, in the event of specific requirements for oxidation resistance or stability of the inserts, they can be made from hardenable carbon steels or stainless steel.
For more details on our custom-designed products, contact us
QUALITY
Our customers can always rely on the high quality of our products, made by following a painstaking manufacturing process aimed at achieving maximum efficiency and quality.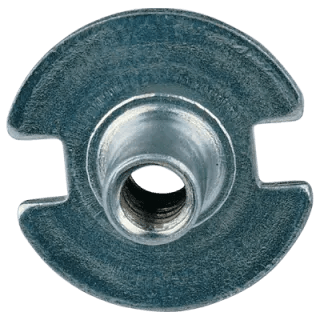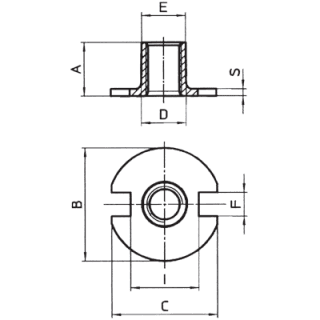 The measurements are expressed in mm. Tolerances: ± 0.2 for both heights and diameters. Center height tolerances: ± 0,3. Tighter tolerances on request.
| Filetto Metrico / Metric Thread | A | B | C | D | E | F | I | S | kg 1000 pz |
| --- | --- | --- | --- | --- | --- | --- | --- | --- | --- |
| M5 | 8 | 19 | 17.8 | 6.9 | 6.5 | 4 | 11.5 | 1.2 | 3000 |
| M6 | 8 | 19 | 17.8 | 7.6 | 7.4 | 4 | 11.5 | 1.2 | 3000 |
| M6 | 9 | 19 | 17.8 | 7.6 | 7.4 | 4 | 11.5 | 1.2 | 3,1 |
| M6 | 10 | 19 | 17.8 | 7.6 | 7.4 | 4 | 11.5 | 1.2 | 3,15 |
| M6 | 12 | 19 | 17.8 | 7.6 | 7.3 | 4 | 11.5 | 1.2 | 3,2 |
| Filetto Withworth / Withworth Thread | A | B | C | D | E | F | I | S | kg 1000 pz |
| --- | --- | --- | --- | --- | --- | --- | --- | --- | --- |
| 3/16" | 7.8 | 19 | 17.8 | 6.3 | 5.9 | 4 | 11.5 | 1.2 | 3000 |